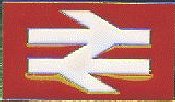 British Railways Photographs Diesel Page 4
Taken by John Griffiths.
British Railways Brush Class 47 on the Westbury avoiding line with an express from Penzance to Paddington. I took this when I was the guard on the railcar you can see, we had just left Westbury with the evening Westbury to Weymouth local sevice.
British Railways Crompton class 33 33025 Tulyar waits at platform 4 Weymouth with the 19.45 train to Yeovil, Westbury, Bath and Bristol.
British Railways Crompton class 33 33110 arrives at Weymouth with a 4 car TC unit from Waterloo, having detatched it from the electric REP unit at Bournemouth. Note the 24 pin jumper cables at the front which when conected to the TC units enabled it to propel the unit with the driver in the TC unit.
British Railways brush class 47 47078 Sir Daniel Gooch at Weymouth after working a Saturdays only holiday special in from the Midlands.
These holiday specials arrived one after another on Saturdays. We had to shunt them into the sidings so that the carriage cleaners could get to work on them...and believe me some of them needed cleaning, we often heard someone say "Whatever must their homes be like!".
Then they would be shunted back into the platforms ready to take the Holidaymakers who had finished their holidays back home.
British Railways Class 31 A1A-A1A 31118 at platform 4 Weymouth, having just come through from Bristol.
The train will go to the sidings and the engine run round ready for the return trip.